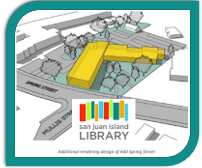 The San Juan Island Community Foundation sponsored the matching grant program, and will donate $2,000 in grants on top of the $25,000 raised by public donations.  Our thanks to the Community Foundation which supported so many worthwhile community organizations this year at the Fair.
Thanks to all who joined in!  Your participation indicates strong public support for this library building project.  We will continue working hard to make this dream a reality!
These funds will go toward the purchase of property for the new library building project near the center of town with all of its accompanying benefits!
Close to schools
Ample parking space
Outdoor seating
Room for future growth
And much more!
For more information on the Library Building Project, visit www.sjlib.org under About Us and read the new August 2020 – Library Building Project Update.