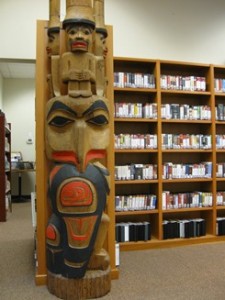 Since 1996, artists and art patrons have donated a variety of art to the Library. Usually, once a year, items from this permanent collection are put on display. The below brochure guides you through the collection inside and out.
In addition to our permanent collection, several times a year, the Library displays art by San Juan County artists-professional and amateur-in various themes and media.  The shows are organized by the Art Committee.
The Art Committee consists of three to seven people. Generally, committee members shall have experience in the field of art, but the committee may additionally include members of the Board of Trustees, or Friends of the Library.
Current Members
Diane Martinedale
Diane has been the Art Committee chair for 7 years and also serves on the WA State Arts Commission and the FH arts commission. And in her spare time (!) she works very hard on exhibitions at the San Juan Islands Museum of Art.
Steve Bowman
Steve is a member of Rotary and chair of the board of the golf club. He is also a new member of the Home Trust Board.
Kathy Cope
Kathy has been a committee member for over 20 years, and a Hospice San Juan volunteer for 30 yrs. Kathy works as an Architectural Designer (CopeWorks LLC) and holds an Honors degree from Univ. of Puget Sound (Triple major in: Art, Asian Studies and Business).
Jennifer Herda
Jennifer along with her husband, Gabe, own San Juan Interiors.  They have two children, Sidney & Sam, both love to call the Library their second home. She serves as a San Juan Community Theatre Board Trustee, and has been on the Library Art Committee for many years.  With each rotation of art themes, Jennifer enjoys meeting the community members who bring in their art.
Hugh and Marj Stanley
Long time library volunteers, Marj and Hugh are also fine artists; Marj is a quilter and Hugh is a painter.
Sharon Lannon
A talented artist, Sharon has faithfully brought pieces in for every show.
Donating Art
The San Juan Island Library District believes that the display of artwork in the building enhances the library environment for patrons. Therefore, to the extent that space is available, the Library encourages the exhibition of artwork which is of local and regional interest, and/or which enhances and complements the library's other collections.
Upon recommendation by the Art Committee, the Board may choose to accept donated works of art. Once accepted by the Board, the donated art becomes the property of the San Juan Island Library District, which has sole authority thereafter re. its location, retention, and disposition.
Please contact Library Director Laurie Orton if you are interested in donating art to the Library.
Lorton@sjlib.org