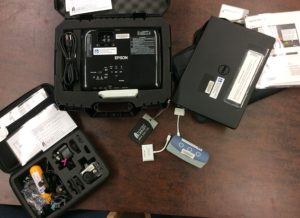 You can now borrow a digital projector and Windows laptop to for your meetings and presentations. In addition, the event equipment collections includes a WiFi Hotspot, a portable screen, portable easel, and bluetooth audio speakers.
The items in this collection were purchased with a generous grant from the San Juan Island Community Foundation.
The policies for borrowing these materials are a bit more complex than simply finding a book on the shelf and checking it out. Since people may need to reserve the equipment in advance for an upcoming event, there will be strict enforcement of due dates. The maximum loan period for these materials in five days.
To reserve the equipment for an event, you will need to fill out a booking form, and the equipment will not be reserved for you until library staff have had a chance to review the calendar to assure its availability.
The added step is akin to reserving the San Juan Island Library meeting room, and just like offering our meeting space to the community for not-for-profit, public events, we are pleased that our event equipment collection will benefit our community by making it easier for people to share information in a variety of gatherings and locations.