We Need our Library Friends – Let us Count the Ways!
The Friends of the San Juan Island Library know the value of the Library in our community. They understand that the Library needs community support to survive and grow. They understand that they can help their Library expand their resources to serve our island public and they work hard throughout the year to provide this help.
The FOL's calendar is full of projects and events for 2020 with opportunities for volunteers and library advocates. Even in this time of health crisis and confinement, we can still use our Library Friends in order to meet our financial and support goals so that when our library again turns on its lights and opens its doors, the Friends of the Library are ready and able to continue operations too.
Count the Ways You Can Help the FOL:
❖ Membership Donations are important to us! If you haven't already, send in your 2020 donation and stay current on our membership list: FOL, PO Box 786, FH, WA, 98250
❖ Save the date – Our usual April Annual Meeting will be postponed and probably rescheduled for October along with a wonderful guest speaker. Stay tuned.
❖ May Mothers' Day Raffle – Volunteers selling tickets at Market Place. Why not be one of the volunteers?
❖ Farmers' Market – Friends of the Library have a presence one Saturday in May, June, July and August. This is a fun volunteer experience selling books & baubles & library love.
❖ FOL book sale in July needs lots of helpers – don't be shy.
❖ July 4th Cake Walk – Needs cake donations and volunteer coordinators.
❖ Book sorting and book garage – Help is always needed here.
❖ October National Friends of Libraries Week – A week of activities from displays to community outreach. Your help will be valuable here.
❖ Donate a basket for our Holiday Silent Auction – we can even help you wrap it up.
❖ Advocate – let your friends and neighbors know what a wonderful & vital Library we have on our Island and encourage them to check out the Friends of the SJI Library!
You can contact any of our FOL Board Members or send us an email message at fol@sjlib.org if you have questions. You can also check out our web page https://www.sjlib.org/ and click "Friends".
Dates and plans may change in this fluid time and we will keep you informed.
As a reminder, The Friends of the San Juan Island Library is a non-profit organization registered with the State of Washington and has 501(c)(3) IRS reporting status. We are a group of volunteers supporting, advocating and raising funds to help make our island Library the best it
can be. We love our Library Friends and hope you will remain or become one!
Find a treasure at the Treasure Cove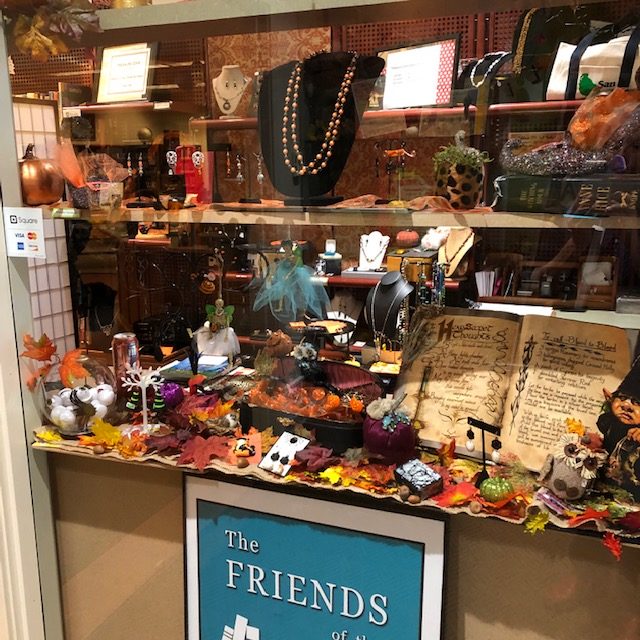 Gifts to purchase for friends or yourself? The Treasure Cove has a wide assortment of unusual and thoughtful gifts on hand. Support your Library!
Book Donations
The Friends of the San Juan Island Library exists as a patron advocacy group whose activities include fundraising events, bi-annual community newsletters, an annual membership meeting, and financial support for a variety of library programs and purchases. 
Friends Fundraising Supports…
Children's Programs

Baby Bags

Adult Programs

Summer Reading Program

Bookmark Contest

Special purchases of books, audio books, movies, software, and equipment

Programs, projects, and workshops offered by the San Juan Island Library

Our library staff, volunteers, and the many physical and online library resources
Become a member today! 
Please send your completed form to:
Friends of the San Juan Island Library
PO Box 786
Friday Harbor, WA, 98250
Looking for Treasure Cove Volunteers
Could you possibly help us out volunteering some hours at Treasure Cove?
It would be just a short 2 hour shift anytime during the week.
We are open Monday, Tuesday, Thursday and Saturday from 11-3.  Most shifts
are 1-3 but we can also use help 11-1. Someone will be there to show you
how to set-up and close.
If you would like to help, please call Margaret Barker, 360-298-4161.