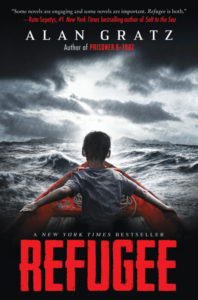 ZOOM: Middle School Book Club
Books Available Now for
Students in 6th, 7th, and 8th Grades
Via Zoom |  Meeting on Thursday, Oct. 1 at 4 PM
Let's not let Covid-19 stop us from talking about books. We're making our Book Club virtual thanks to the Zoom app. Our first book is Refugee, the thrilling best-selling novel by Alan Gratz that explores the complexities, dangers, and emotions of leaving one's home country for another land.
Pick up your free book during our curbside hours: Tuesday, Thursday, Friday, and Saturday from 11-2 PM.
Then, join us via Zoom for a lively discussion on
Thursday, Oct. 1 at 4 PM.