The San Juan Island Library is delighted to partner with the Land and Sea Learning Garden to offer a StoryWalk® for the 2023 summer season.
Stop by the Garden in Friday Harbor (across from the Sheriff's office) to see the StoryWalk® of A Good Place, by Lucy Cousins. The StoryWalk® signs are posted along the garden's fence for you to view, step-by-step and page-by-page! 
A StoryWalk® is a creative way for children and adults to combine reading with spending time outdoors. An illustrated picture book is placed along a popular walking path for people to enjoy, step-by-step and page-by-page!
San Juan Island StoryWalks® are brought to you by the San Juan Island Library with funding courtesy of The Women's Fund of SJICF. 
If you have enjoyed your StoryWalk® experience, please let us know by tagging us on Facebook or Instagram. We love to hear from you! Plus, your feedback helps us in planning future outdoor storytelling activities. 
This Summer's Featured Book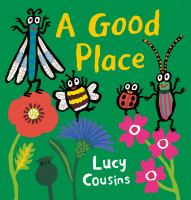 About the Author/Illustrator
Lucy Cousins
Lucy Cousins is a popular and well-known British author and illustrator of award-winning books for children. She created the hit series Maisy, featuring a beloved mouse who became a household name among families with little ones.
Cousins' other titles include Hooray for Fish, Peck, Peck, Peck, Hooray for Birds, and Yummy, a telling of eight favorite fairy tales. Her books have been translated into 27 different languages and her colorful board books are regarded as among the best for toddlers.
More About Lucy Cousins and Video Read Aloud Stories
About Our 2023 Community Partner
Land and Sea Learning Garden
Land and Sea is a 501(c)3 non-profit, chapter of Slow Food in Friday Harbor, WA, on San Juan Island.
Our chapter's main project is the Land and Sea Learning Garden, an all-volunteer-run, community-focused learning garden located on San Juan County land.
This garden was founded by our Land and Sea Slow Food chapter in 2010, and has been managed solely by our chapter as a space for learning and growing food and flowers for families and individuals with a need and as a resource and host for programs that serve our community. We've had a groundbreaking agreement now for 13 years to use San Juan County land in a trade, creating a garden in exchange for making a good use and caring for the property, including its heritage apple, pear, and plum trees.
Since our beginning, we've created programs and made resources and space available for students, families and the community, and over the past 4 years we've focused on fencing, water, gates, storage interpretive signage, and other infrastructure. This year we have culinary, dye, pollinator, and cut flowers, multiple vegetables, fruit and berries, and grains and host a preschool age garden program called Seed to Sprout every other Friday starting this July.
We have evolved into a great place to just relax & meet on the lawn at the picnic tables under the fruit trees, and to see vegetables and beautiful flowers buzzing with pollinators, right in the heart of town.
-Zoe Froyland
Questions? Contact: LandandSeaWA@slowfoodusa.org
Enjoy More Books About Gardens and Bugs
A Seed Grows, by Antoinette Portis
Bugs! Bugs! Bugs! by Bob Barner
Goodnight Veggies, by Diana Murray and Zachariah Ohora
Hank's Big Day: The Story of a Bug, by Evan Kuhlman
I Love Bugs, by Philemon Sturges
Maisy Goes on a Nature Walk, by Lucy Cousins
My Garden, by Kevin Henkes
Planting a Rainbow, by Lois Ehlert
Say Hello to a Worm, by Kari Percival
Tap the Magic Tree, by Christie Matheson
The Tiny Seed, by Eric Carle
We are the Gardeners, by Joanna Gaines