What are you reading now?—I'm reading The Bear by Andrew Krivak, One Hundred and One Famous Poems compiled by Roy J. Cook, and Middlegame by Seanan McGuire.
What is in your TBR pile?—Blue Moon by Lee Child, The Boatman's Daughter by Andy Davidson, The Daughters of Temperance Hobbs, The Dutch House by Ann Patchett, Vacationland by John  Hodgman, Born a Crime by Trevor Noah, The Nightingale by Kristin Hannah, All the Crooked Saints by Maggie Stiefvater. Here are a few of my TBR books I have copies of: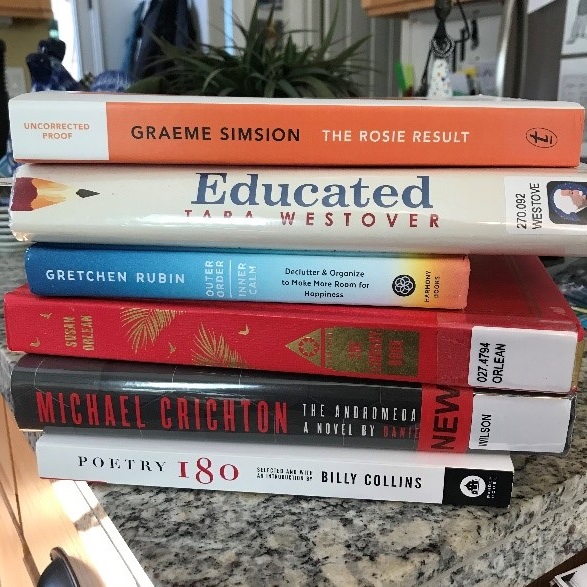 Favorite children's book and why?—Little House on the Prairie series by Laura Ingalls Wilde—Love reading about how people make and do things to survive, and I felt like I was living her life.  Harry Potter series by J.K. Rowling—a unique concept of a magical world filled with wonder and imagination.
Favorite non-fiction book and why?  I love memoirs especially. I really liked The Witches are Coming by Lindy West recently; she's not afraid to call things out.  Love Poems for Married People by John Kenney gave me some laugh-out-loud moments. We Should All Be Feminists by Chimamanda Ngozi Adichie—short and powerful.  Quiet: The Power of Introverts in a World That Can't Stop Talking by Susan Cain—I'm not alone. Hyperbole and a Half: Unfortunate Situations, Flawed Coping Mechanisms, Mayhem, and Other Things That Happened by Allie Brosh—funny, heartbreaking, honest. Yes, Please by Amy Poehler—a smart and funny woman that I admire.
Favorite movie and why?  I enjoy all the versions of Pride and Prejudice.  
Favorite TV series and why?  Game of Thrones—adventure, excitement, love, betrayal, honor, and magic!
Favorite fiction book and why?  Pride and Prejudice by Jane Austen, Les Miserables by Victor Hugo, The Rules of Magic by Alice Hoffman, How to Stop Time by Matt Haig, A Song of Ice and Fire by George R.R. Martin
If someone was to play your favorite book character on screen who would it be?  No idea, but lots of good actors have done some fantastic portrayals already.