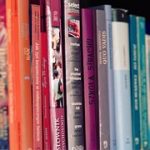 Material Type
Bird Kits
Books
Books on CD or  Cassette
CD / Cassette Player
DVDs
DVD Player
Children's Music CD
Digital Audio Player (mp3)
Event Equipment
Laptop Computers (library use only)
Low Vision Equipment
Magazines (new issue non-circulating)
Reference
Telescope
WiFi Hotspots
Check-out Period 
1 week
3 weeks
3 weeks
3 weeks
1 week
1 week
3 weeks
3 weeks
5 days
3 weeks
3 weeks
3 weeks and Non-circulating
1 hour
2 weeks
3 weeks
# of Renewals 
2
2
2
1
2
1
2
0
0
2
2
0
1
0
0
Renewable material types will not be renewed if any of the criteria below is true:
1. The item has gone to Long Overdue status which means the
item is at least 30 days overdue.
2. The item has a hold on it which means another patron is waiting for it to be returned.
3. The maximum number of renewals has been reached.
Renewal check out periods are the same as the initial checkout period.
For example, a book could be renewed for an additional 3 weeks for each of the 2 possible renewals, making a maximum check out period of 9 weeks.