Fall Newsletter Infographic
Business Member of the Month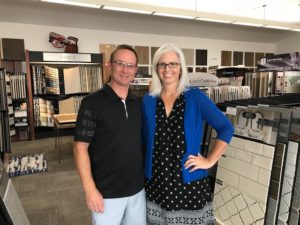 San Juan Interiors is a proud sponsor of our San Juan Island Library. Owners Jennifer and Gabe Herda have operated San Juan Interiors since 2004. The retail business specializes in all types of flooring…from hardwood to tile, vinyl plank to carpet, countertop surfaces, even window shades to keep the summer sun at bay. San Juan Interiors enjoys assisting our local customers with the opportunity to change their living space and create a new look.

San Juan Interiors supports the Library for many reasons. When Jennifer gave birth to her daughter Sidney, the Library was a welcome part of her day. The children's department is one of the most amazing areas for parents and little ones alike. The staff is dedicated to providing a life-long love of reading to all who enter. Sidney is now a teen and loves volunteering at the Library. San Juan Interiors is a business sponsor of the Friends of the Library. Sponsorship allows the Library to continue providing excellent programs for our Youth. Sidney and her brother Sam enjoy all the wonderful events at the San Juan Island Library.
What your Membership does
The Friends of the San Juan Island Library exists as a patron advocacy group whose activities include fundraising events, bi-annual community newsletters, an annual membership meeting, and financial support for a variety of library programs and purchases. The Friends raise over $23,000 a year to help support library activities.
Friends Fundraising Supports…
Children's Programs
Baby Bags
Adult Programs
Summer Reading Program
Bookmark Contest
Special purchases of books, audio books, movies, software, and equipment
Programs, projects, and workshops offered by the San Juan Island Library
Our library staff, volunteers, and the many physical and online library resources.
Become a member today!
Membership Form