Friends of the San Juan Island have exciting events planned for October!
See our first infographic newsletter that should be in your mailboxes now and demonstrates why being a Friend of the Library is an important membership to consider.
The FOL membership drive for 2019 begins October 1, 2018 and there is an incentive for early bird joining and renewal. Those membership applications received between October 1 –December 1, 2018 will be eligible to enter a draw for a $100 gift certificate to Downriggers. The winner will be drawn at the FOL Holiday Sale scheduled for December first. Be that early bird!
Check out the display cabinet as you come into the Library during October. Friends of the Library have a colorful and informative display for the month.
Stop by the FOL Membership Table in the Library salon. You will find it informative, interactive and you can pick up a Membership Application for 2019.
Celebrate National Friends of Libraries the week of October 21-27, 2018. FOL has a week of activities planned that everyone should enjoy. Have a look at the week's calendar so you don't miss a thing. Highlights include a Book Swap on Sunday, October 21 st and A Very British Evening on Wednesday, October 24th celebrating the 200th anniversary of the publication of Jane
Austen's book Persuasion. Heidi Green, Lifetime Member of the Jane Austen Society North America, will present.
Put the Friends on your calendar for October!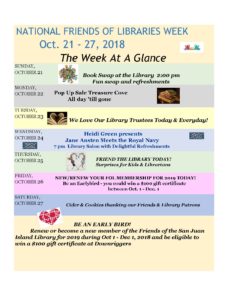 Each year the Friends of the San Juan Island Library hold a number of events for the public. Their wonderful Book Fair is held each summer and a Holiday Book Sale is held leading up to Christmas.
In addition, the Friends celebrate National Friends of Libraries Week in October. During this week they have special events and, for the past two years, they have hosted the very popular Edible Book Festival.
They also sell donated books on Ebay and at the Ferry Dock Landing for travelers.
Annual Meeting: April 25 at 7 pm
Mother's Day Raffle: tickets available at the library and Marketplace in April and May.
Brickworks Book Booth on Saturdays June 16, July 7 and August 29 from 10-1 pm at Brickworks on Nichols St.
Cake Walk: July 4 at the Pig War BBQ, Historical Society Grounds.
Summer Book Sale:  August 4 in the parking lot of the library.
FOL Week: October 21-27 at the Library.
Holiday Book Sale: December 1 from 10-4 pm at the Library.